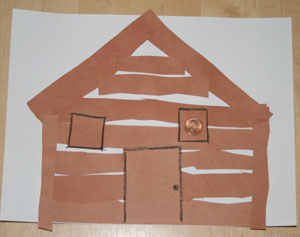 Here's a really fun President's Day Lincoln log cabin craft that kids can mostly do on their own and brings out their creativity.
Materials:
white paper
brown construction paper
scissors
glue
a penny
Directions:
Have students cut the brown paper into strips. Draw lines for them to cut or let them go free handed.
Glue on strips for the walls and roof to make the outline of the house. Glue more strips horizontally to fill in the log cabin. Trim the strips as necessary.
Cut a rectangular door and 2 square windows.
Glue on a penny so it looks like Lincoln is looking out the window.
If desired, add a black chimney.
Source:
All Kids Network
You have read this article collage / president's day with the title President's Day Lincoln Log Cabin Craft. You can bookmark this page URL http://tangrila.blogspot.com/2012/06/president-day-lincoln-log-cabin-craft_18.html. Thanks!