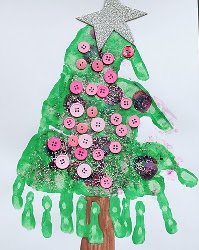 Here's a fun Christmas tree hand print craft with paint and buttons.
Materials:
white paper
green and brown paint
paintbrush
colorful buttons, sequins, or spangles
glitter
cardboard or foam
glue
scissors
Directions:
First paint a brown trunk on white paper.
Starting from the trunk, print green hand prints in a pyramid shape to make the tree as shown. Sprinkle wet paint with glitter. Allow to dry.
Glue buttons, sequins, or spangles on for ornaments.
Trace a star on cardboard or foam. Cover in glue and glitter. Allow to dry.
Cut out the star and glue at the top of the tree.
Source:
All Free Christmas Crafts
You have read this article christmas / christmas tree / hand print with the title Christmas Tree Handprint Craft. You can bookmark this page URL http://tangrila.blogspot.com/2012/06/christmas-tree-handprint-craft.html. Thanks!