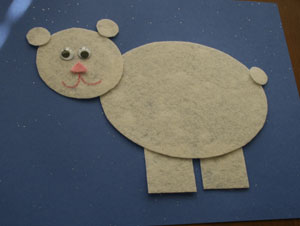 This is a cute polar bear made from basic shapes you could make out of felt or paper. Great for a lesson on winter or shapes.
Materials:
Sheet of blue construction paper

white construction paper or felt

2 google eyes

tiny pink triangle

glue

pink marker or thread
Directions:
Cut out pieces beforehand; 1 big circle or slight oval for the body, 1 medium circle for the head, 3 very small circles for the ears and tail, 2 squares for the legs.

Assemble and glue on pieces to blue paper.

Add google eyes and a triangle for the nose.

Draw a pink mouth or use thread.
You have read this article arctic animals / bear / math / shapes / winter with the title Polar Bear Shapes Craft. You can bookmark this page URL http://tangrila.blogspot.com/2012/01/polar-bear-shapes-craft.html. Thanks!