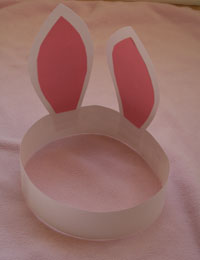 Here's a very simple idea for Easter that will get your kids hopping all over the place like crazy. The teacher needs to prepare more for this craft. Make all the headbands ahead of time. Use less time for making the craft and save more time for role play fun. I've seen some versions that put the ears on the front and others on the back. Both are fine. You can glue on the ears, but I think stapling is faster. You might want to tape over the staples, so they don't scratch the children's heads.
Materials:
Long white paper strip about 2 or 3 inches wide and long enough to fit around the child's head.
Ear shapes from white and pink paper
stapler
scissors
glue
Directions:
Make an ear templates and trace and cut out big white ears and slightly smaller pink insides.
Glue pink parts onto the ears.
Staple the ears to the headband.
Have students wear them and jump around like bunnies.
You have read this article costume / Easter / spring with the title Easter Bunny Headband Ears Craft. You can bookmark this page URL http://tangrila.blogspot.com/2012/01/easter-bunny-headband-ears-craft.html. Thanks!