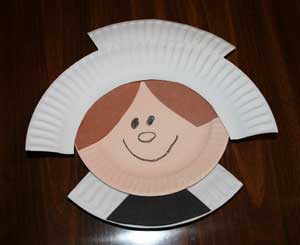 Here's a pilgrim girl paper plate craft for thanksgiving to match the pilgrim boy.
Materials:
Pilgrim girl template(from link below)
1 large paper plate
1 small paper plate
black and brown construction paper
skin toned paint
paintbrushes
scissors
glue
crayons
Directions:
Paint a small paper plate beige and allow to dry.
Print out the templates
Trace and cut out a large wedge piece for the collar and 2 other pieces for the bonnet from the large paper plate.
Trace and cut out the black collar piece and glue to the large wedge.
Glue the small wedge to the back of the bonnet piece.
Trace and cut out the hair from brown paper.
Glue the collar wedge to the bottom.
Glue the hair to the top and the bonnet on top of that.
Draw a face on your pilgrim girl
Source:
All Kids Network
You have read this article paper plate / pilgrims / Thanksgiving with the title Thanksgiving Pilgrim Girl Paper Plate Craft. You can bookmark this page URL http://tangrila.blogspot.com/2012/04/thanksgiving-pilgrim-girl-paper-plate.html. Thanks!