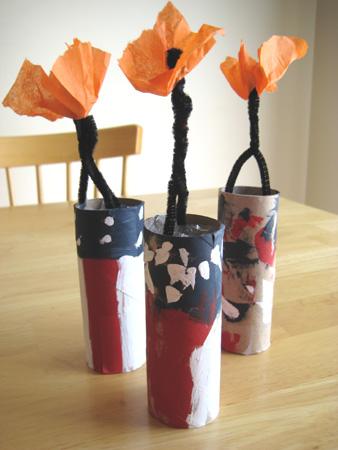 These 4th of July toilet roll firecrackers are a safe way to enjoy your Independence Day.
Materials:
toilet paper roll
bubble wrap
black pipe cleaner
tape
scissors
paint and/or other decorations
orange or red tissue paper
Directions:
First take 1 long, black pipe cleaner and tape or staple the ends into one end of the toilet roll so it stands up like a loop.
Twist the the pipe cleaner loo to resemble the firecracker's fuse.
Cut a 2x3 inch size of bubble wrap. Roll it up and stick it into the bottom of the toilet roll. Secure with a little tape or glue.
Decorate your toilet roll with paints, stickers, or paper stars. Remember the key colors are red, white, and blue!
Tear off a little piece of orange tissue paper and stick onto the end of the pipe cleaner to make a lit fuse.
Kids can play by sticking their fingers inside and popping the bubble wrap to sound like a firecracker.
Source:
Make and Takes
You have read this article 4th of July / toilet paper roll / toy with the title 4th of July Toilet Roll Firecrackers Craft. You can bookmark this page URL http://tangrila.blogspot.com/2012/03/4th-of-july-toilet-roll-firecrackers.html. Thanks!